25 Random Things about Me (2015 version)
Several years ago (2009?), I participated in a Facebook meme. I had fun reading the lists of "25 random things about me" from other friends, so I wrote my own list after being tagged by several.
Rules: Once you've been tagged, you are supposed to write a note with 25 random things, facts, habits, or goals about you. At the end, choose 25 people to be tagged. You have to tag the person who tagged you. If I tagged you, it's because I want to know more about you.
Here is a revised version of my "25 random things about me" in case you are interested:
1. I am dyslexic and had a hard time at school with German and English classes, but was top of the class in Math. I consider it God's humor that he called me into a language related work. As a result, I went to England as an Au Pair (nanny) to improve my school English, and had to learned French for one year in France. In addition I learned Dutch during my time living in the Netherlands and Spanish during a short-term work in Mexico. Again for my work, I had to learn three African languages: Sango in CAR, Djenaama and Bambara in Mali. Along the way I learned a little bit here and there but I can't claim to speak them, such as Turkish and Italian. During different training courses we practiced learning a language for a few weeks, including Amharic, Kurdish, Chinese, Lingala, Suaheli. In most cases, I remember just one word.
2. I can't read a book or article without finding spelling mistakes.
3. I was not allowed to speak the local dialect as a child (my parents forbid it) so my pronunciation sounded rather "German" (instead of Austrian), to the point that some Austrians would not believe that I am Austrian, especially after 3 years at a Bible college in Germany. For Germans it was always clear that I am not German but Austrian. Talk about identity conflict.
4. I hate traveling but keep doing it a lot for the sake of God's calling. I have lived in Austria, Germany, the Netherlands, Great Britain, Mexico, France, USA, Cameroon, Central African Republic, Mali. I have visited Italy, Yugoslavia, Hungary, Romania, Czechoslovakia, Poland, Switzerland, Belgium, Spain, Zaire, Chad, Kenya, Senegal, Ivory Coast, Santa Domingo, Croatia, Greece, and maybe some more which I forgot. I even traveled three times to Eastern Europe as Bible smuggler before the fall of the Iron Curtain. For now I am done traveling that much, since it probably contributed to my burnout.
5. My original training was in plastic engineering, as part of a technical high school, but equivalent to a college degree. I would have needed to work in this domain for two years to officially obtain my engineers title, which I never did.
6. I am fascinated by other cultures and love to observe and analyze cultural differences and personal idiosyncrasies. I also love guessing where people come from and what language they might speak.
7. I am an organizer and love logic puzzles. My love for whodunits probably falls in the same category.
8. I first need a framework before any detail information makes sense to me. I guess that means that I am a global thinker.
9. I got my first camera at age 14 and loved photography ever since. I learned a lot about good composition through it. Or maybe I should say, I did it intuitively right which was very helpful also for painting.
10. I am from the tribe of "hunters and gatherers" – during my childhood this meant catching frogs, lizards, grasshoppers, and collecting stamps, coins, dried plants, books, song texts, poems, etc. – Now most of my collecting is digital: photos, music files, song texts, articles, etc). And I no longer put dead mice in my colleague's in-baskets. 😉
11. I love all kinds of dancing and started teaching others to dance at age 16. I once opened a ball with the Lutheran Bishop of Austria, Oskar Sarkrausky – he was a very good dancer. During a recent furlough I won two tickets for the Concordia Ball, the ball of the Austrian Press club, in the Vienna Rathaus (city hall). It was a challenge to find all the things (dress, shoes, accessories) AND a dance partner within three days but it was great fun.
12. During school I learned playing recorder, during Bible college guitar, and during a recent furlough I started playing clarinet. I did not get very far with playing the pan flute.
13. During the same furlough I took singing classes and even reached the high B. During the next furlough I learned to more use my chest voice. Regrettably I am better in singing along than singing solo.
14. I love musicals and grew up listening to West Side Story, My Fair Lady, Man of La Mancha, Anatevka (Fiddler on the Roof), Porgy and Bess which my father had on tapes – old-fashioned big tapes.
15. I have a large family because my mother had 7 siblings and my grandfather 12. One of my great-grandfathers was a wood turner. During his journeymanship he traveled all over Europe mostly on foot – Dresden, Vienna, Trieste, Lyon, Paris, London, and eventually got married in Paris with a wife sent to him from back home. Another line of my ancestors goes back to the Huguenots from France who fled to Czechoslovakia and later came to Austria.
16. I love watching (and photographing) sunsets and other sun atmospheres and clouds. They can calm my spirit in incredible ways. Watching birds from close by touches my heart deeply. And looking on water surfaces is very therapeutic.
17. I can be very curious. Which really helps with strange food – I have eaten porcupine, snake, bush rat, monkey, gazelle, elephant trunk, elephant guts, cat, giant frog (3kg! photo below for those who can't believe it), caterpillars, termites, locusts. Elephant trunk is the finest meat and caterpillars with Koko leaves in peanut sauce was my favorite dish in CAR.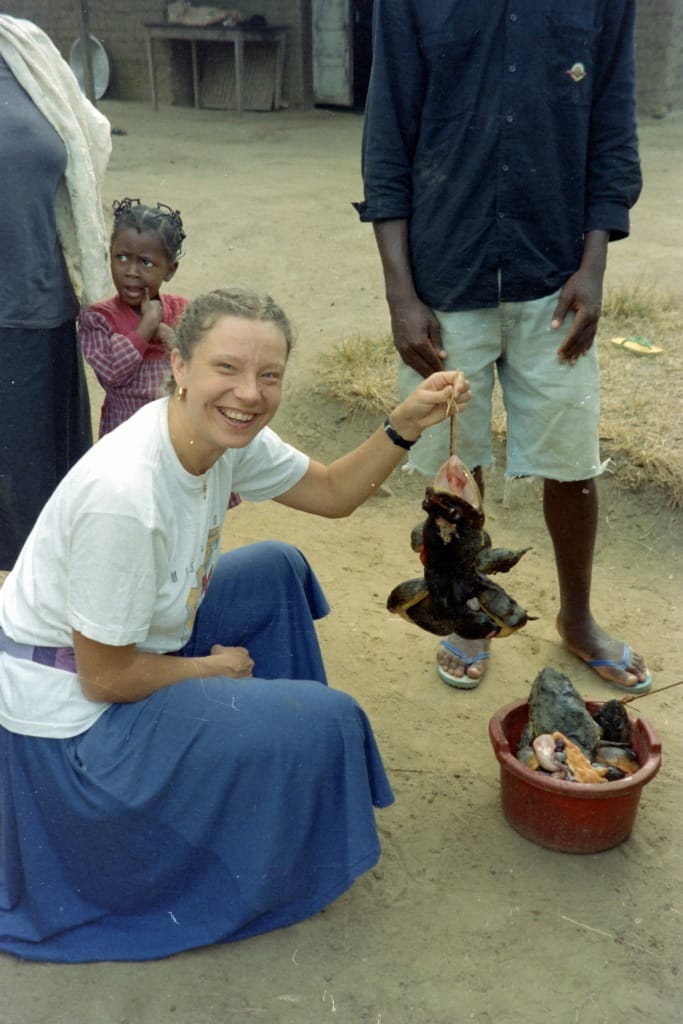 18. I won a bike with three gears at age 14 in a youth traffic quiz. I had it for many years until it was stolen in the Netherlands only a week or so before moving back to Austria.
19. For a relaxing vacation, I like to read a lot and swim, preferably in the ocean with lots of surf. A special bonus is when I also have a chance to do windsurfing which unfortunately does not happen very often.
20. I never stick to a recipe but like to change it. That's called creativity.
21. I learned the hard way that maintaining relationships is more important than avoiding high telephone costs.
22. For a long time, I was "half-African" when it came to temperatures due to living in Africa for 20 years – I hated the cold, and everything below 26C/80F was cold for me, which did not mean that I liked it when it's too hot, i.e. above 32C/90F. During the recent years in Austria, my body re-adapted to European temperatures. Luckily! Or I might be frozen stiff by now. 😉
23. I think that there are no black people, not even in Africa because even those called black are shades of brown. In my dreams, all people have the same skin color. I usually recognize a friend in my dreams not by their skin color but by their mannerisms.
24. I love worshiping God through songs and whenever possible like to express my worship through freestyle worship dance. Even though I had dreamed about it for many years, the final impetus for this type of worship came from a Fuller colleague and therapist, whose artist name was Picasso.
25. Last but not least – since the original meme I discovered that I am HSP (highly sensitive person, also called sensory processing sensitivity). It was really eyeopening and explains so much of what I knew about myself. I wrote a blog post about it which you can read here. (This replaces the random fact of painting, which is no longer any surprise.)
I would love to get to know my readers
If you have done a similar list, feel free to post the link below in the comment section.
If you have don't, I'd ask that you post 1-3 random facts about yourself below in the comment section.