Welcome!
---
Jutta Blühberger is a visual artist, cultural anthropologist, author and translator from Vienna. After many years abroad, she lives in the province of Salzburg. 

Already in her youth she showed great interest, talent and potential in artistic endeavours in various genres. However, it was only after a long interruption that she started to work artistically again in 1998. She focused on the visual arts and since then has constantly perfected her artistic skills and forms of expression, first as an autodidact and later in courses under the guidance of Heinz Knapp, Eva Flatscher, Manfred Hebenstreit and others. The studies at the Leonardo Art Academy Salzburg under Prof. Hannes Baier, as well as the postgraduate studies at the Academy of Fine Arts Kolbermoor under Gabriele Musebrink made an important contribution.

Her artistic focus is painting with pigments and wax medium. This relatively unknown but ancient technique is called cold wax painting. This was complemented in recent years with textures from marble dust. Spiritual themes in her paintings and blog entries give you food for thought. Her works are part of private collections on several continents.
Fine Art between Beauty and Brokenness
Beauty and brokenness – a contradiction? In my painting they are central aspects that form an intriguing contrast.
On the one hand, there is the human longing for perfect beauty; and on the other hand, there is a beauty that is expressed precisely in imperfection and in our human brokenness. This is a tension that has preoccupied me for a long time and fascinates me beyond comprehension.
And this ( seeming ) contradiction is therefore also reflected in my textured paintings: the fractures that arise in the marble dust structure without my intervention and which I cannot influence, are for me an expression of human imperfection and limitation. In addition, the harmonious color glazes and color gradients, which for me – they too, despite all imperfection – express beauty and perfection.
Beauty in Imperfection
The statement "In imperfection lies true beauty," corresponds to the Japanese concept Wabi-Sabi.
And this view from Japan has accompanied me for a long time in my photographic work: my camera is always looking for the grace in simple everyday things, the beauty of inconspicuous details by the wayside. A simple cropping of a picture thus reveals to me the beauty of the seemingly banal, the ugly and the flawed. It fascinates me how precisely in the imperfection of many things a great beauty is hidden!
On the other hand, I also long for aesthetic perfection and beauty in symmetry, perfection and radiant splendor. Perhaps also because I come from a family of perfectionists. For far too long I have believed that perfection is the only goal and that I only deserve praise and recognition through perfect performance. In this respect, it was a long path of relearning for me to also accept imperfection and to appreciate its beauty.
So it is only in recent years that I have learned to appreciate the beauty of imperfection. Possibly this has taken place at the same time as my discovery of process painting, because the one probably (only) makes the other possible: in process painting I have to get used to results which do not correspond to my common idea of perfection and beauty.
Strukturen auf Papier * Texture on Paper
Longing for Transcendence
Even those who do not come from a perfectionist background like me know this longing for genuine perfection. This longing is in all of us, because we are obviously all looking for something that transcends our human limitations. Some speak of salvation or eternity. Others call it enlightenment or nirvana. Some talk of heaven on earth. Others rave about the experience of the supernatural or the intrusion of the divine into everyday life.
All this can probably be summed up by the term transcendence.
Transcendence is also a recurring theme in my paintings. Because my artworks live from and out of the tension between imperfection and the longing for perfect beauty and transcendence.
Living in the Tension
Where I previously used to fall short is now a focus in my work: appreciating the fragile, the flawed, the inadequate – which the cracks and fractures in the marble powder structure illustrate well. It's similar to the practice of Kintsugi: a Japanese ceramic repair technique in which repaired areas are coated with gold lacquer. An appreciation and display of flawedness rather unknown in the West.
It was a longer process for me to accept my own weaknesses and even to accept them as a valuable part of reality. And subsequently to embrace the imperfection of humanity itself – and thus also the imperfections of my fellow human beings. At some point I realized that my constant striving for perfection had its roots in a longing for fulfilment and acceptance.
Fulfillment and being accepted are themes that run like a thread through my life: only when I understood in my heart how perfectly God loves me despite my imperfections was this longing truly satisfied. Through my deepening relationship with God, I can experience this perfect love more and more. In this way, little by little, old wounds have been healed and I have come to myself and to an undreamed-of freedom. Through my faith I experience fulfillment in the healing relationship with the invisible God and experience His perfect love and acceptance.
This profound experience, this contact with the invisible world, naturally finds its echo in my paintings. It remains an imperfect (!) attempt, but all this is an important part of my life and fine art: to live in the tension between embracing my imperfection and longing for perfection and transcendence.
Therefore, my motto, my blessing and my invitation to you, the viewers of my art work, is, "May my paintings bring you into contact with the invisible reality of heaven."
Related Links for Continued Reading
---
Contact Form
---
The newest articles …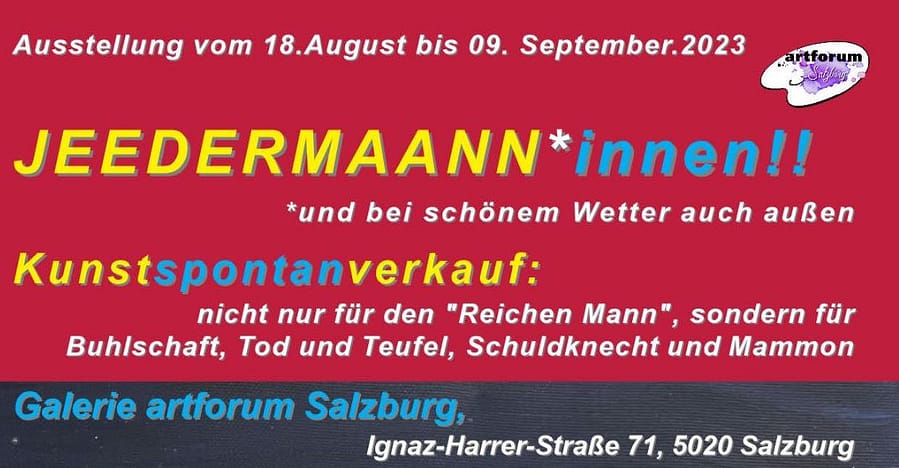 Jeedermaann*innen at Artforum Salzburg. At the spontaneously created exhibition Jeedermaann*innen, art for every budget is…
The newest artworks …
---