Rooted – Acrylic Painting
This acrylic painting was some time in the making. I started it during the art conference at the beginning of August but was not satisfied with the background. This week I finally finished it, only two days before the opening of my exhibition. The day before the exhibition I still needed to frame it, and while I was still struggling to lock the back cover of the frame, I tore my back. Ouch! Not a good thing on the day you want to hang the 40+ paintings for an exhibition. Fortunately, I had help from friends and together we were able to put all paintings up, ready for the opening.
The painting shows a vine with leaves and bunches of grapes, sitting on and rooted in a big red cross that lies on the ground in between tufts of grass. The background is full of light like during a sunrise.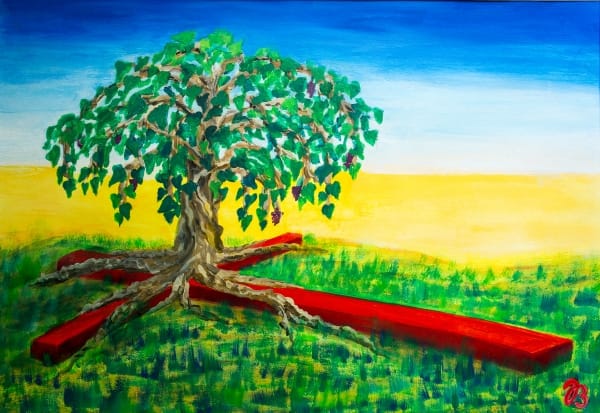 Different people have different roots, different foundations, different priorities. My priority is to be deeply rooted in the person who is symbolized by the cross and calls himself the "true vine" – Jesus:
I am the vine; you are the branches.
Whoever abides in me and I in him,
he it is that bears much fruit,
for apart from me you can do nothing.
John 15:5
His presence in my life caused the healing, liberation, and inspiration that I have experienced and that enabled me to be an artist.