Why Western Christianity Failed 3
In September/October Deeper Walk International brought an interesting series of webinars on the topic of "Why Western Christianity Failed." The speaker was Dr. Jim Wilder from Shepherd's House in California.
The first part was about a 300 year old philosophy that heavily influenced Western Theology (which I summarized here).
The second part looked at how medieval psychology influences us until today (which I summarized here).
And the third part explained how we ended up with a false dichotomy because of these two influences.
In this post I will give a summary of part three:
The theme of part three is the false dichotomy in Western Christianity that resulted from the Voluntarist philosophy (part 1) and the medieval psychology (part 2). Christianity became a matter of giving people the right information so they can make the right choice, but this did not help to change people's character.
As a result Western Christianity paid a lot of attention to belief errors, for example, in cults (e.g. Jim Jones) or in other theologies (liberation theology) but did very little about character failures, for example, when church leaders run off with somebody else's wife, addictions, divorce among Christians, pedophile priests, pornography and many other character failures among Christians.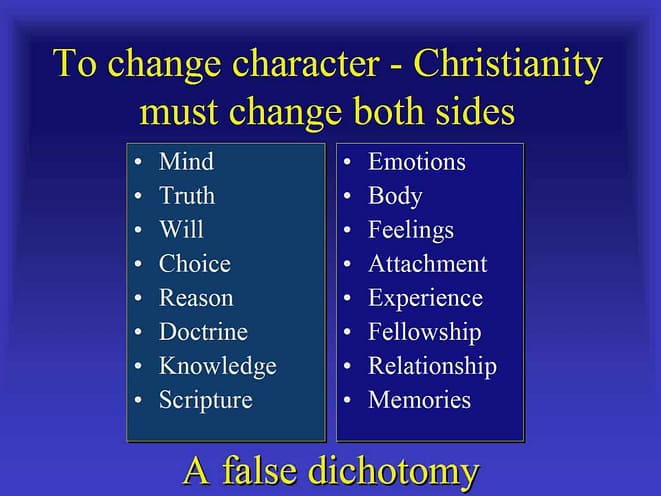 It is not a matter of picking one or the other. Christianity needs to change both sides.
One result of this false dichotomy is legalism.
It easily develops when you think that ideas and choices are the key to being a 'good' Christian.
What is needed to change this?
We need to understand how our brain works. The control center of our life is situated in the right hemispheres of the brain – not the left thinking side of the brain! It is this right side that takes over when we are under stress or in trouble. Therefore it is the right side that needs to become Christian to influence our whole life, including our character.
How is the control center trained?
The right brain can learn to stay true to ourselves and our God-given identity under pressure:
through relationships with others who can model for us how to handle pressure
visual examples
emotional story and song, similar to the minstrels in the past or hymns that use a lot of imagery
but NOT through propositional truth or didactic teaching!
Our character can be changed
when other people are glad to be with us (a joy that is communicated non verbally between our right brains by just smiling at each other)
when they are glad to be with us even in difficult situations
when we experience Jesus' presence in these situations
when we learn to synchronize with God while we are under pressure
and experience his joy of being with us even when we fail.
All of this has to happen in the situation itself, when we are under pressure, when we experience suffering or temptation, not when we are sitting in church and are not tempted.
The left hemisphere can help in this process,
find the resources needed for training the right brain
make strategies for change and growth
learn truth and use it as a standard of reference, but …
Memorizing Bible verses alone does not help to do the right things, but when we live in relationship with the person that is behind them.
We are often trying to use the left hemisphere to compensate for the lack of emotional skills but that does not help.
For example:
addictions are a classic example of doing this, try to rationalize things
borderline personality disorders, try to live by rules because they lack the relational skills
anxiety, try to gather more information but information cannot compensate for relationships
religions obsession or legalism, try to explain everything, and achieve ultimate spirituality
work and control compulsions, try to set up rules to control people and things around them.
Unfortunately but not surprisingly, a lot of these can be found in Western Christianity.
Many people who think their way through relationships are very legalistic, rely heavily on predicting the behaviors of others, box people in, expect them to behave according to roles ("you are … you should do …"), enforce compliance to their expectations, and look for explanations when things don't go according to expectations.
This leads to "left-sided sins problems"
They are typical among those who try to live their faith from the left-brain hemisphere:
condemnation
judgmentalism (by comparisons)
sense of entitlement
guided by own understanding and explanations (instead of Jesus')
depend on roles (instead of God-given identities)
need to punish and justify punishment
sarx ('flesh') based living, living according to my own understanding of how God wants me to live, instead of in dependence on Him!
This is in contrast to what Prov 3:5-6 tells us to do:
Trust in the LORD with all your heart
and lean not on your own understanding;
in all your ways acknowledge him,
and he will make your paths straight. (NIV)
Trust GOD from the bottom of your heart;
don't try to figure out everything on your own.
Listen for GOD's voice in everything you do, everywhere you go;
he's the one who will keep you on track. (The Message)