Handmade Papers.
Handmade papers are the basis of all the images in my most recent series. Papers have always interested me and since the beginning of last year I am working intensively with handmade papers.
When I started watercolor painting in 1998, I painted only on paper. Only many years later, when I started acrylic painting, I used canvases on a case-by-case basis. Paper remained my preferred painting surface after that and I mostly used Hahnemühle watercolor painting blocks, like Cornwall or Britannia. I love the four-sided gluing of blocks, which means I don't have to stretch the watercolor paper, and I usually leave the paintings on the block until they are finished.
I initially painted all material paintings with marble powder textures on canvases. Especially in the beginning, when this technique was completely new to me. After a year, I then made the first tentative attempts to apply this technique to paper substrates. And lo and behold – it worked. Of course, there was still a lot to learn. So I was grateful that our instructor Gabriele Musebrink also sometimes works on paper and described it in her book.
In preparation for the postgraduate course in Kolbermoor, where each participant determined their own focus, I decided to work on handmade papers. I had collected a variety of handmade papers from different suppliers before that. In the first block of classes, I studied them intensively and experimented with them.
In the beginning, I was overwhelmed by the variety on the market. An additional challenge is that in the various (mostly Asian) countries of origin, different names are used for the same materials.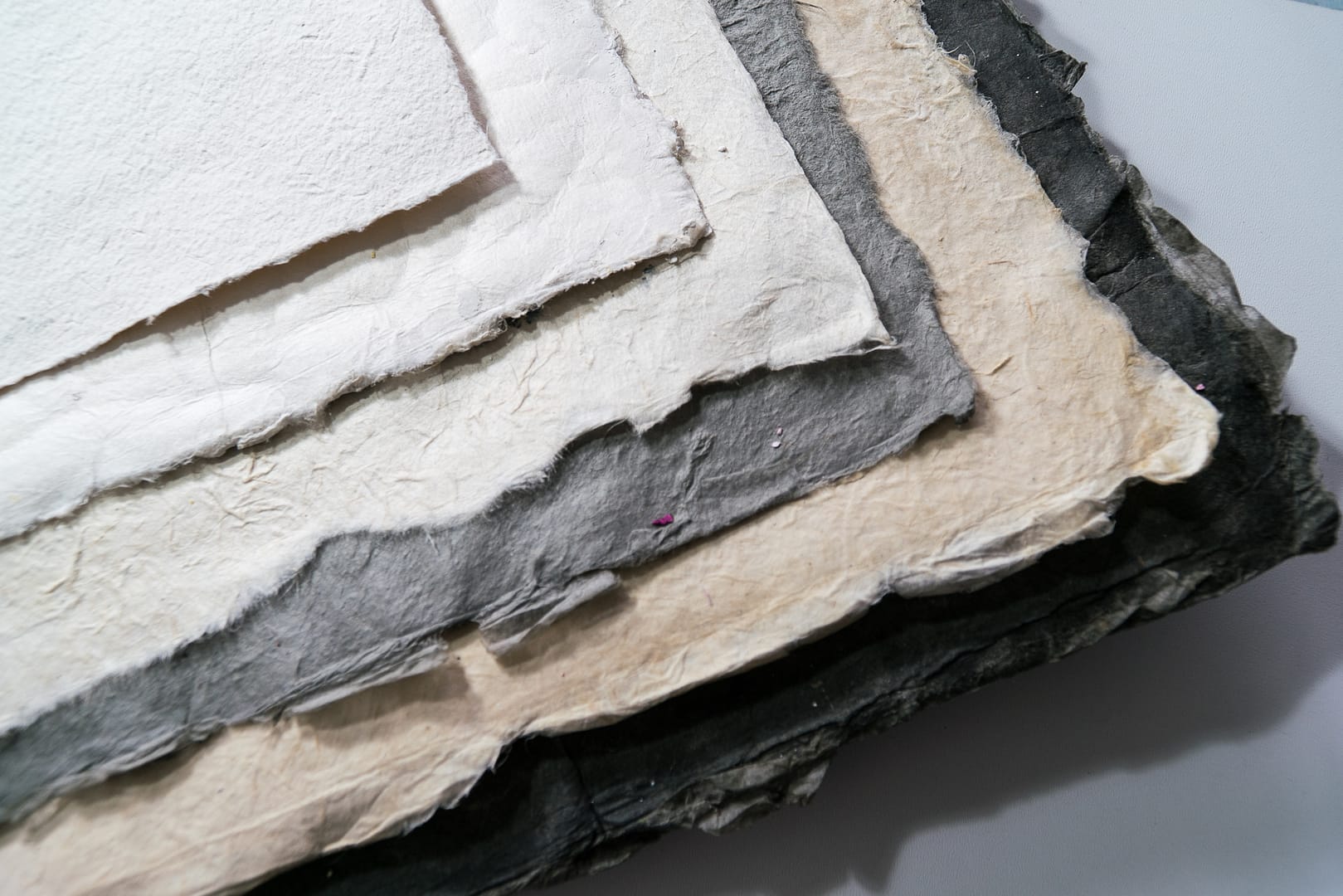 Handmade papers
In the following, I will now introduce those papers and their ingredients that I have used most often.
Most of these handmade papers come from Japan, Korea, China, Tibet and Nepal. They are made from various particularly long-fibered plants, of which the following are the ones I have encountered most often (you can read more about them on Wikipedia, for example):
Gampi, literally goose skin, also called paper tree, genus Daphne. In Nepal they use a daphne plant called Lokta.
Kozo or Kozu, Japanese paper tree, mulberry tree. In Korea, it is called Hanji.
Hemp.
Rice paper tree used for Chinese rice paper. There is a Japanese/Taiwanese and a Tibetan variety of the tree.
These three ingredients and many others are used in varying percentages that are not precisely specified anywhere. This results in countless types of paper, some of which cannot be clearly distinguished from each other and are difficult to compare across country borders and languages. All these fibers are longer and more tear-resistant than the paper fibers made from cotton (rags) or pulp used by Hahnemühle in Germany or Fabriano in Italy.
Unfortunately, the term "rice paper" is used as an umbrella term for Japanese and Chinese papers, even though they are not made from rice fibers. This, of course, leads to confusion.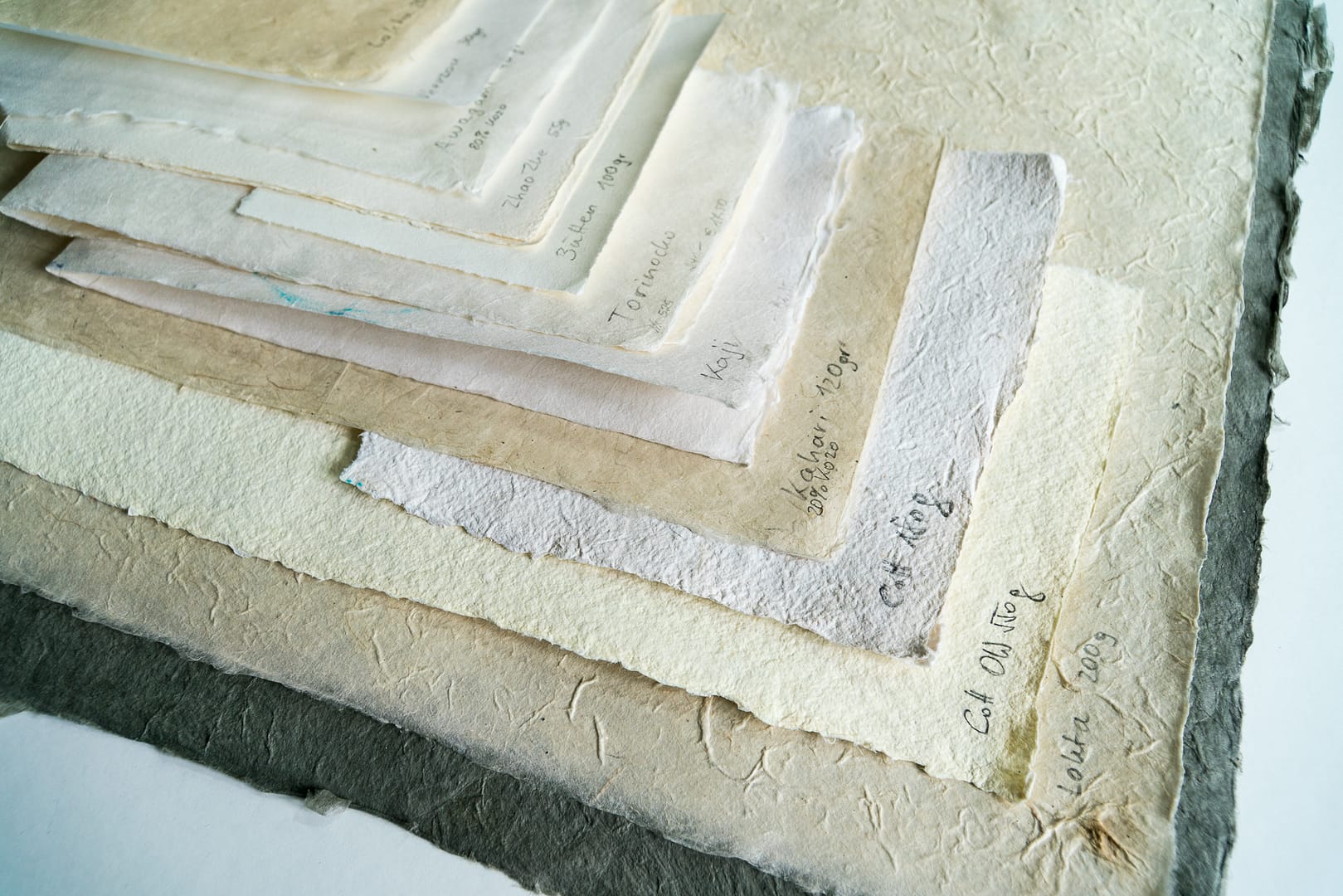 Papers that I used
Ingres, real handmade paper is made of cotton cellulose and pulp (100 gr).
Wenzhou is a very light China paper (30 gr) that I buy as a roll. It is made of 100% mulberry.
Zhao Zhe, also a very light China paper (55 gr).
two Japanese papers called Torinocko and Kaji, about which I have no more detailed information.
Awagami Kozo (46 gr), a Japanese paper made largely of mulberry fiber (80% Kozo, 20% wood fiber pulp).
Kahari is made from 100% daphne (120 gr) and comes from the Himalayas. Kahari hemp paper is made from 70% hemp and 30% daphne (lokta).
Lokta papers are also made of daphne and come from Nepal (in three weights 20, 200 or 300 gr). They are available in different tints.
Indian cotton paper (180 or 550 gr)
Kumohada is a Japanese paper made of Kozo, Gampi and Hemp.
Ingres is available as a block from Hahnemühle. Since I already had this at home, I started my experiments with it. Wenhzou is excellent for working into damp marble powder texture. I have used this before in material paintings on canvas. Most often I use now the Lokta paper from Nepal in three different weights and dyes. I would also very much like to try Kumohada paper, since this is one of Makoto Fujimura's favorite papers.
My main sources for handmade papers are Boesner, Gerstaecker and Wolfgang Stadler. I have contacted several other sources, but most are located overseas and that makes ordering difficult.