Giveaway on Facebook
Currently, there is a Giveaway on Facebook. You can find it on my artist page "Faith Dance Art"
My Fine Art Calendar for 2020 is in planning and you can help me decide which paintings I should choose for the calendar. The theme of the calendar 2020 is Austrian lake landscapes in acrylic palette knife technique.
You can also win something: there will be a drawing of 3 calendars among all those who vote.
Paintings to choose from
There are 16 paintings to choose from, which I painted between 2015 and 2019. An Austrian lake always is at its centre. I love the atmosphere around the lakes! Especially when the sun is reflected in the water. Very often there are also mountains in the picture.
Most of these pictures are still for sale and wait with or without frame and matting for customers in my artist studio in Strobl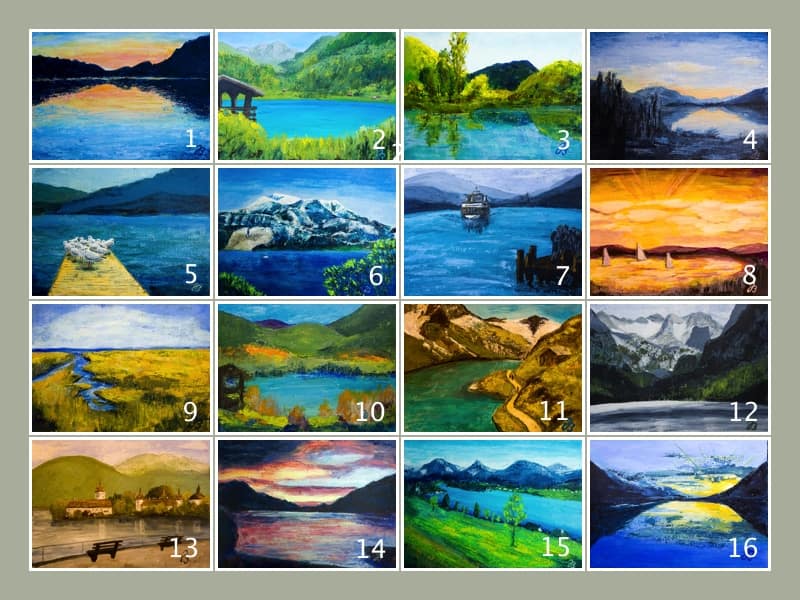 Terms and Conditions of participation
a) Write in the comments the numbers of at least 3 paintings that you like best and
b) Like the blog post and/or Facebook post.
The deadline is at the end of May (30/5/2019 midnight in Vienna). Then I will select three winners from all participants by lot. The winners will be notified by PM and official FB posting. Participation is limited to the EU (+Switzerland) and the USA
If the collage is too small for you, you can view the pictures in the corresponding photo album on Facebook or below
Data protection
The collected data will only be used for the giveaway. By participating, the participants agree that their name will be published on the website of Jutta Blühberger www.juttabluehberger.at and on the Facebook page "Faith Dance Art" in case of winning. The competition on Facebook is run by me (Jutta Blühberger / Faith Dance Art) and is in no relation to Facebook