Where art and everyday life meet – Marisa Merz.
Graphite, metallic paint, pastel, ballpoint pen, adhesive tape on paper
Unburnt clay, thumbtacks, copper wire, gold leaf
Nylon thread, knitting needles
Nylonmull, iron, stone
Graphite, pastel, copper on paper
Copper fabric, paint, graphite, mounted with drawing pins on wood
Mixed media on paper, mounted on wood, iron and copper frames, beams, wax
These unusual ingredients are the materials of the Italian artist Marisa Merz (born 1926 in Turin, Italy). She is the only female representative of the protest movement Arte Povera ("poor art").
The artists of this movement mostly came from Rome and northern Italy in the second half of the 1960s and 1970s and used "poor" materials as objects of art, often from everyday life. In doing so, they protested against the specifications and restrictions of the art world.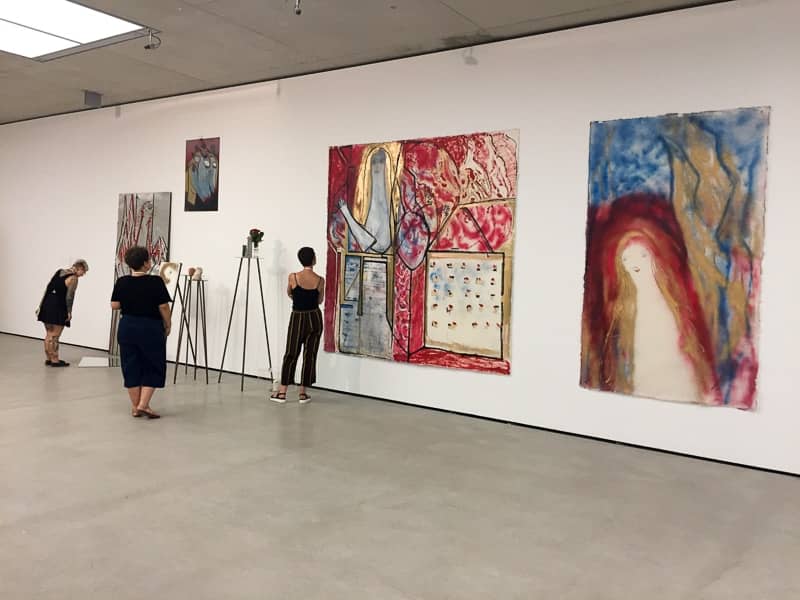 Originally, Marisa Merz studied architecture and during this time met her husband Mario Merz (1925 – 2003). He is one of the main representatives of Arte Povera. Starting in 1967, Marisa showed her works in Turin, the birthplace of Fiat and the protest movement Arte Povera.
Although Merz articulates the unity of art and everyday life perhaps most radically, her work and its influence receive international recognition relatively late in life. (press release)
2013 she was awarded the Golden Lion for her life's work at the 55th Biennale di Venezia and presented her works at the age of ninety in exhibitions in New York and Los Angeles. Her works from five decades can currently be admired in the spacious rooms of the Salzburg Museum der Moderne am Mönchsberg, under the fitting title "Il cielo è grande spazio / The sky is a great space".
Artist, Woman, and Mother
The first work "Living Creature 1966" was created in her kitchen and made of aluminum. However, not of aluminum foil. More like the kind of aluminum they used to make fume hoods out of. And the sculpture also reminds us of them. Standing in front of the huge sculpture, one can hardly imagine how it has "grown" in a kitchen. Was the kitchen really that big?
On the other hand, I can well imagine how she worked on it between different housework chores and continued a little bit each day. A challenge that many artistic mothers know very well – where can I spare two minutes for my creativity so that it won't suffocate during the years of bringing up children?
Everything had the same priority, Bea[her daughter], the things I sewed; I had the same availability for everything. (Marisa Merz)
Merz has thus combined and articulated art and everyday life in the most radical way.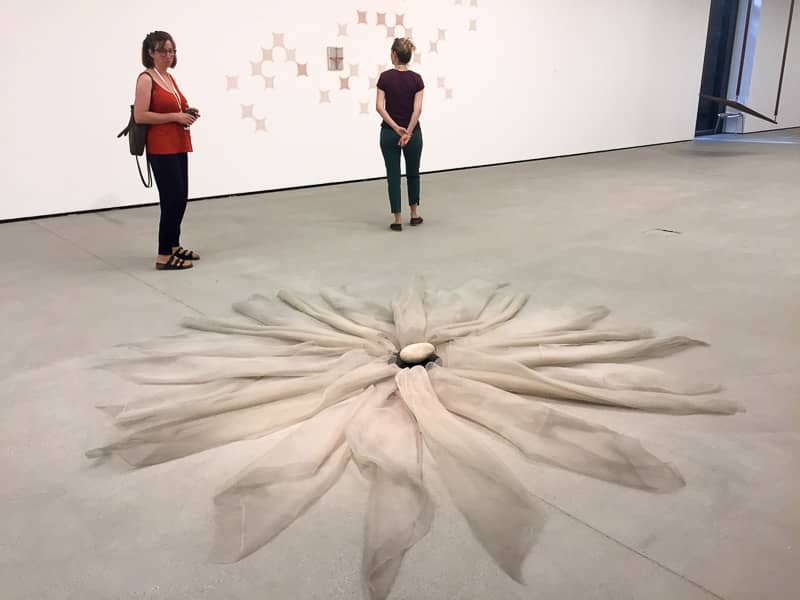 This approach led to an incredible variety of works – from knitted figures and letters to nets arranged like ship sails; from fabric flowers on the ground to mixed media drawings; from many small sculptures to huge paintings that became three-dimensional sculptures with wire threads, pinboard pins, and square pot cleaners.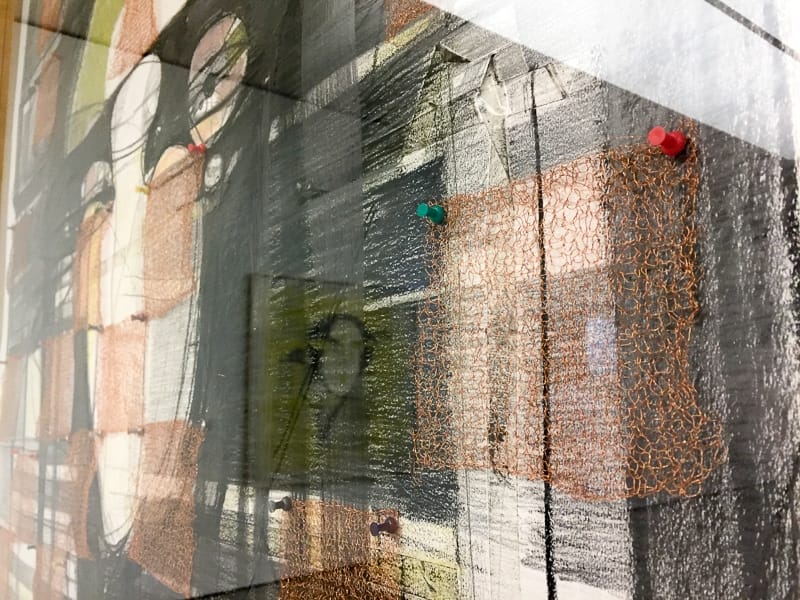 Marisa Merz's red thread is copper wire
Faces are a theme that runs through her art like a red thread on several levels. In many of the paintings with graphite and mixed media and the small sculptures, one recognizes human faces, heads or angelic beings.
In addition, there are two other red threads that fascinate her the most and which she connects masterfully.
On the one hand, metal elements: the aluminum of the first sculpture, metal paint and graphite on paper, metal rods as poles, copper wire, nails, iron frames, mirrors, a fountain made of lead.
On the other hand, nets: sails made from nets, a nylon mull flower, knitted or woven figures, shoes, letters, bowls, etc.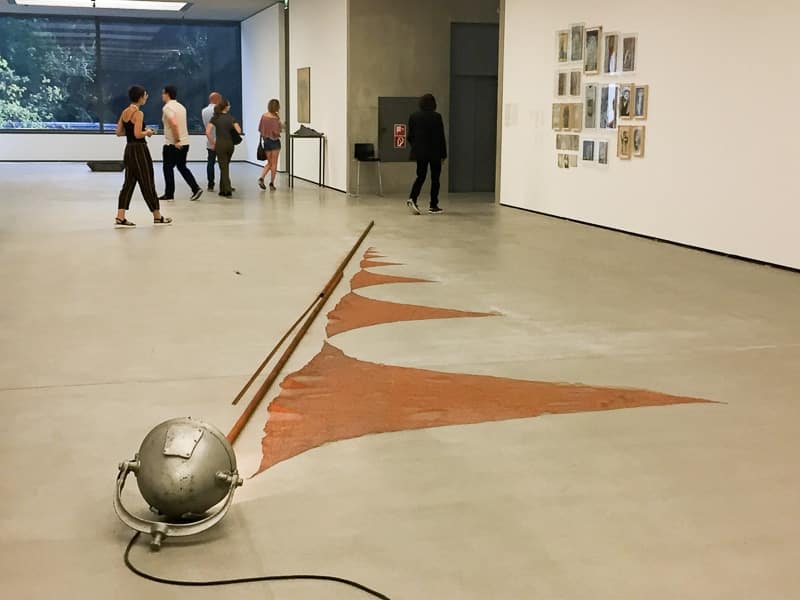 The combination of these two themes or fascinations are potentiated in the many copper wire meshes she has used. Merz most frequently uses a copper wire mesh in the size of square pot cleaners. I wonder if she's removed them from real scouring agents. Since many of her works are undated, it is difficult to say when she stopped using pot cleaners. In her later works, she used rather large-format copper wire meshes. But she remained true to the red thread.
The work of Marisa Merz spans a wide arc – from the narrowness of the kitchen in which her first work the "Living Sculpture" grew, to the expanse that she and her works experience now in the Museum der Moderne Salzburg. "Il cielo è grande spazio / The sky is a great space".
As someone who loves the expanse, I rejoice with her.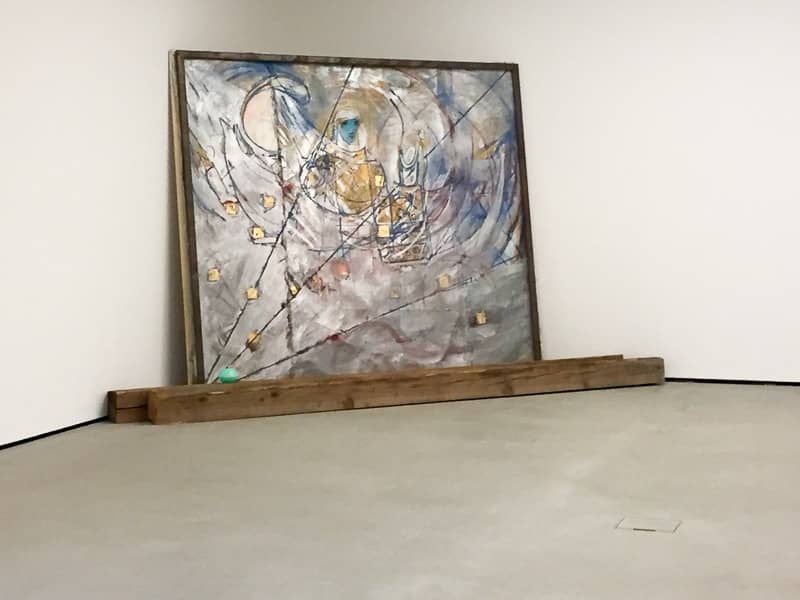 Excerpt from the press release
The Museum der Moderne Salzburg celebrates the artist Marisa Merz, born in 1926 in Turin, Italy, with a five-decade exhibition of her work. In an interplay of her roles as artist, woman, and mother, Merz developed an unmistakable artistic language in the 1960s. She uses mainly soft materials such as aluminum, copper wire, nylon, wax or unfired clay in unconventional forms for the visual arts. The artist does not see her works as autonomous objects that develop chronologically, she only titles a few and leaves most of them undated. Rather, she repeats and transforms forms and parts of works in changing arrangements.

Marisa Merz is the only female representative of Arte Povera, whose circle includes her husband Mario Merz (1925 Milan, IT – 2003 Turin, IT). The Poveristi, for whose works the term was coined in 1967, emerge from Genoa, Turin, and Rome with the use of "poor" and everyday materials. After her monumental aluminum work "Living Sculpture" (1966) had previously taken shape in her apartment and grown, almost proliferated there, Marisa Merz exhibited it publicly for the first time in Turin in 1967. Although Merz perhaps articulates the unity of art and life most radically, her work and her influence receive international recognition relatively late.
The exhibition runs from 25 May – 4 November 2018 at the Museum der Moderne, Mönchsberg, Salzburg.
This blog post is part of a series "Art in the blog" which began during a workshop at the Salzburg International Summer Academy.