Fine art calendar 2022.
The fine art calendar 2022 with my paintings is in preparation and can be pre-ordered now. Those who pre-order it until November 20, 2021, will receive it again at a special discount price.
I am offering the art calendar in two sizes – and this year they are in portrait format! The dimensions are:
Large calendar – 30 x 42 cm / 12 x 16.5 in – equivalent to A3 paper format
Small calendar – 21 x 30 cm / 8 x 12 in – equivalent to A4 paper format
Each calendar page has a multi-line calendar block with some space for notes and looks like this.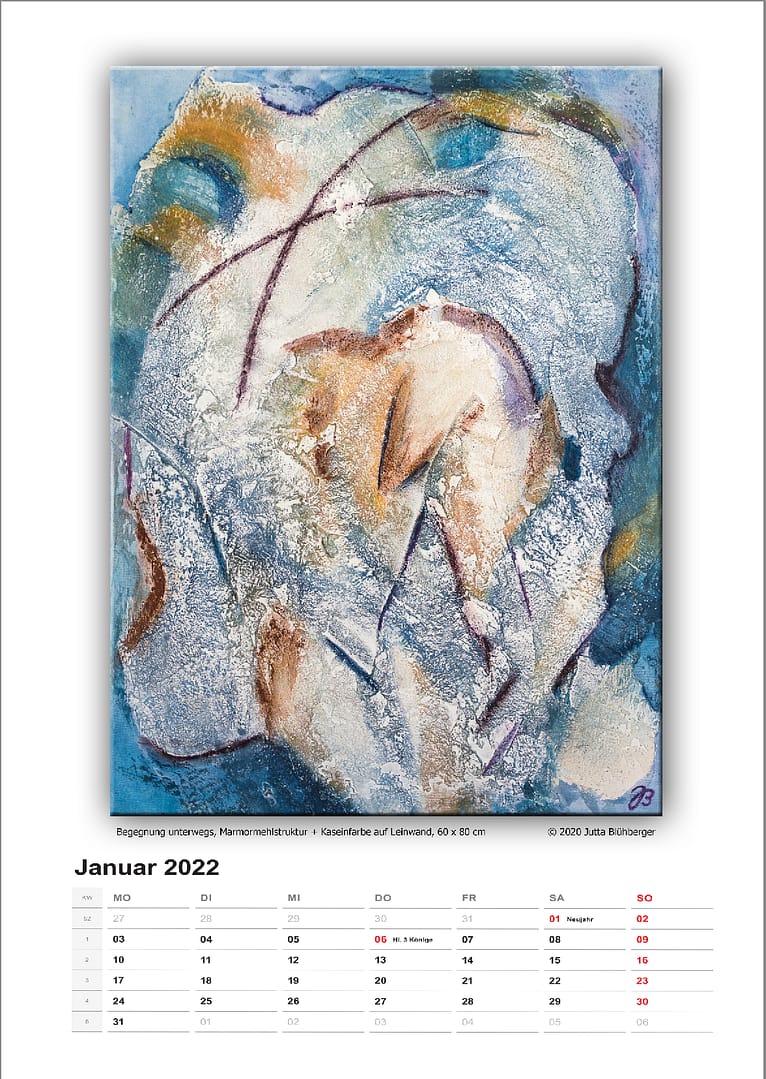 Pre-order at a special price
Those who pre-order and pay for the calendars by November 20, 2021 will receive them at a discounted price! They cost:
Large calendar A3 – instead of 20,- only 15,- Euro
Small calendar A4 – instead of 17,- only 13,- Euro
For shipping to Austria and Germany there is a flat fee of 5,- Euro for shipping; to all other countries (Switzerland, rest of EU) the flat fee is 10,- Euro for shipping. Orders outside Europe can be processed on Zazzle (more about this below).
Click on the following link if you want to take advantage of this special offer:
Monthly images of the Fine Art Calendar 2022
I have selected the following paintings from my latest series for the calendar: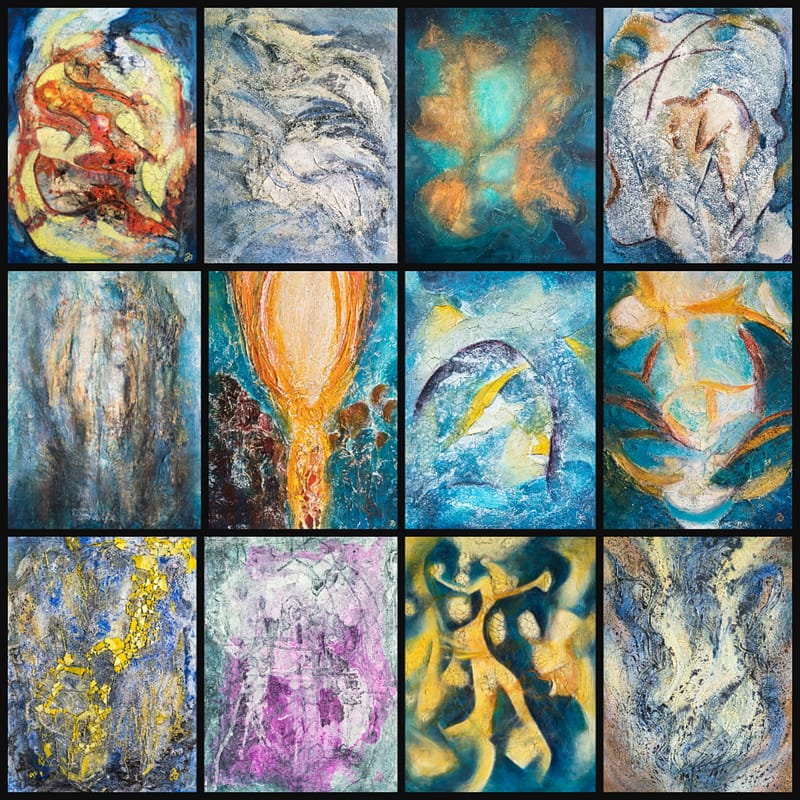 All paintings in this calendar belong to the latest series, which I have been painting since the end of last year. They are material or textured paintings. That is, a texture (usually made of marble powder) is the basic design element. As a result, the paintings are often very three-dimensional, so to speak, on the border to sculptures. Another common feature is that I painted them with pigments. To make a color out of the pigments (color particles), I use various binders, most often tempera. Incidentally, the paintings belong to the style of intuitive process painting, as were the paintings in the last calendar. I have intensively studied this style in a course with Gabriele Musebrink. She herself calls it "Process Painting of Intuitive Power".
The next steps
You can order the calendar directly from me via the following link or via e-mail (don't forget your address!).
Soon after you will receive a confirmation of your order with instructions for the payment process (account details). Important: The order is only valid after I have received the payment.
For those who order by November 20, 2021: The calendars will be printed by the end of November and shipped in early December. That means they will arrive in time for Christmas. So when ordering, remember that the Fine Art Calendar 2022 makes a great Christmas gift, not just something to hang yourself.
For those who order after November 20, 2021, the calendars will be shipped within one week of receiving payment, subject to availability. In addition, at that time the normal retail price plus the flat shipping fee will apply:
Large calendar A3 costs 20,- Euro
Small calendar A4 costs 17,- Euro
What if you don't live in Europe?!?
No problem – if you want to order this calendar in English and/or live outside Europe, you can order my Fine Art Calendars 2022 in my Zazzle store.
Visit my Zazzle store's Fine Art Calendars 2022 collection and check out the different calendars there. They can be customized into many different languages. You can also customize the holiday selection for different countries. The newest addition to my collection of Fine Art Calendars 2022 uses the same paintings as depicted above. However, because of the American calendar standard, I had to use clippings or rotate the image. At first, I was reluctant to do so but now I am quite happy with the result. Link to the newest Fine Art Calendar 2022.
All order details (invoicing, payment, printing, shipping) are handled directly by Zazzle. The normal price of these calendars is USD 27.40, but there are frequent discount offers on Zazzle. You can find different discount offers for different types of products on this page almost every day.