Textured paintings.
In the fall of 2020 I began to paint so-called material or textured paintings. The basic design element is always a texture – usually made of marble dust. Thus, the images are generally very plastic, bordering on sculpture. Various layers are applied to this with different media. An essential part of the design are paints, which are made from pigments by myself. These are mixed with various binders, such as (egg) tempera, casein and oil. I also use ink, stain, wax, glassine and pastels.
The design of the textured mass as well as the further steps of painting and paint application are done in a very intuitive way. This technique belongs to the so-called process painting technique and has its origin in the subconscious. Each step happens in a kind of dialogue with the painting. For example, the texture goes through its own process during drying, which I cannot influence, and to which I then "listen" and respond with sensitivity. Between the various applications of material and paint, there are also steps where I repeatedly remove material and paint. This then creates special effects. Sometimes the painting also develops in a completely new and unexpected direction.
Basically, it's all about thematizing the textures and the colors themselves. The title of my fine art calendar for 2022 "Ragged Beauty" reflects this. This is because, depending on the thickness of the structural mass and the choice of binders, bumps and fissures of different sizes appear. These fissures are what make these paintings so beautiful and fascinating.
The intuitive approach allows the viewer many different interpretations. The titles of the paintings indicate only one of many possible interpretations. Viewers are invited to engage with the images and let their imagination and fantasy run wild.
Photo album of this series
Multi-year Project Trinity
A special project in this technique started back in 2013, when I painted a design for a triptych in watercolor and bought the necessary canvases. For various reasons, it never came to fruition. In the middle of last year I made the first layer with marble dust. And I used not three but five canvases. Then several months went by until I could continue working. Now it is so far that I will show it in the next exhibition. Here is the 2021 / 22 version of "Trinity".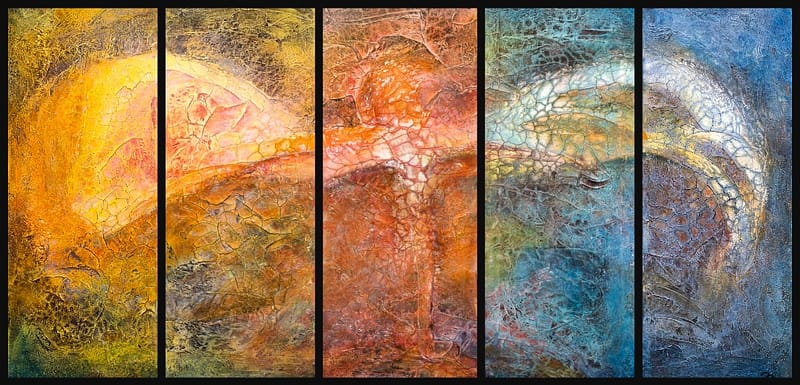 This was my watercolor design in 2013: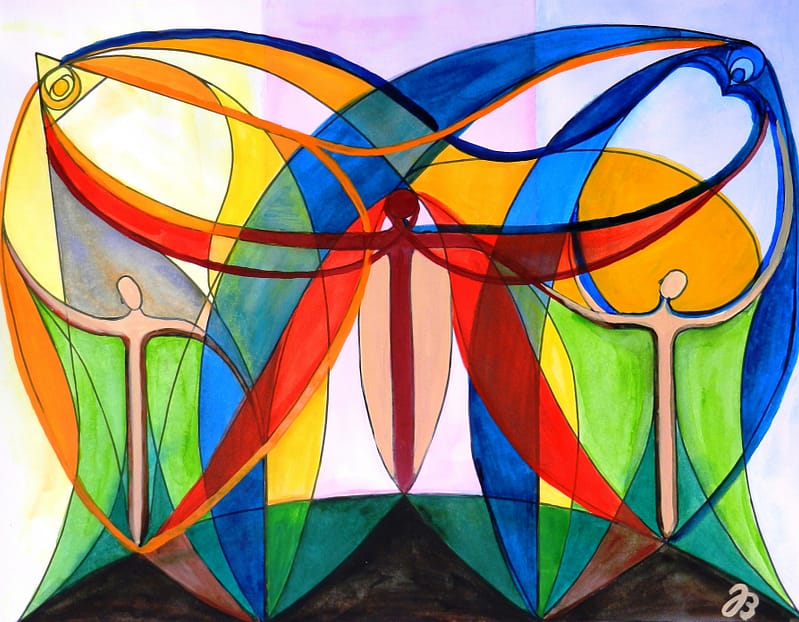 Continuation on paper
The next series is in planning and already casts its shadow ahead. Namely, I want to further develop the technique on paper. They were part of an exhibition in 2023 under the title "Weak & Strong".  
Related Links